On the 20th of October 2016 at 8:30pm, I walked into the Telstra Store on Level 2 at Fountain Gate, ready to buy a new Pixel XL on a brand new plan. The sales assistant was friendly, and walked me through the setup.
During that time, I enquired about the giant billboard outside of Westfield Fountain Gate, which stated that you could receive $200 worth of free accessories for joining up with Telstra on a new plan for 24 months.
The sales lady gladly said they would honor the offer, and offered me a portable speaker, generously referred to as a soundbar. (Which retails online for $99.) Not exactly $200 worth of free accessories, but I was happy, it was free.
She then generated the contract, which showed a $10 per month for 24 months ARO (Accessory Repayment Option). She scribbled it out and said I would not be charged the ARO. Fair enough, I said, unbeknownst to me that this was a common scam played by some unscrupulous Telstra licensees.
Telstra Store Fountain Gate Level 2's outright lies
Later that month, I received my first bill. Which contained a $10 per month charge for the supposably "free" accessories.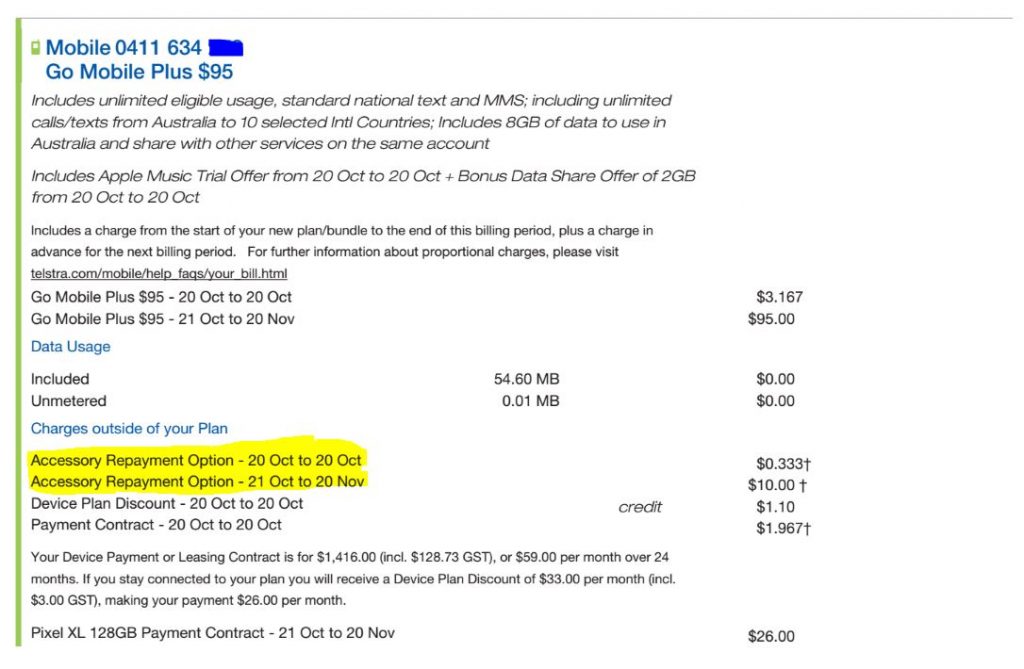 'Surely that was an error', I thought to myself. I called Telstra and I was proven completely wrong. I was immediately met with  "There's nothing to indicate that the accessories were free" and "We have no record of that promotion".

I made several calls, each time being told that the charge was accurate and that I should have read my contract.
The Australian Consumer Law provides consumers with the right to truthful and accurate representations when buying a product or service. This means that businesses must not mislead you with statements that are incorrect or likely to give you the wrong impression. This rule applies to information that a business provides you in any medium, including when talking to a sales representative, on packaging, in online shopping forums or social media.
— ACCC Response to Complaint Raised
With that in mind, it was not my fault for not reading the contract. Businesses aren't allowed to do one thing and say another.
I continued to call Telstra, and they told me to call the store at Telstra Store Level 2 Fountain Gate. I called the store and they said they would call me back, they failed to. I called Telstra again and was referred back to the store.
Scamming is common at a number of Telstra licensees unfortunately.
During this run around,  I found stories of other people being deceptively entered into "Accessory Repayment Options" while being told it was free. I learned that this was a common scam pulled by some Telstra Licensees.
The store gave me a spare lead and a phone charger, worth maybe $50 tops. When I get the first bill I find they have added an Accessory Repayment Option for $240 to cover the cost of the charger and lead. [Whirlpool Forum]
Telstra's own forums are full of stories (archive) of people getting lied to and charged for Accessories they were told were free.  One particularly bad story was:
I questioned the salesman and he assured me it was "free" and "part of the package".  When I got home I read in the contract some talk of an "ARO" at $10 per month over 24 months.  Further research on the Internet suggests that this is a scam.

It seems that every time I deal with Telstra their staff trick me (happened once before with a free iPad that ended up costing me $20 per month). [Telstra Forum]
Eventually I submitted a formal email complaint listing out what had happened, and the remedy I wanted. I asked for a formal apology, and the ARO to be removed and the money which had been illegally taken from my account returned.
A few days later, a staff member from Telstra in Australia called me, confused as to my complaint. "You feel that you have been scammed?", he asked as if such a thing has never happened before at Telstra.
Unfortunately, as I have learned first hand, some Telstra franchisees engage in deceptive and illegal practices as part of their standard mode of operation.
As of writing I'm still waiting on my letter of apology from Telstra and the franchisee at Fountain Gate Level 2 Telstra Store, however I did get a $240 credit on my account.
Update:  I want to note that not all licensees engage in this deceptive behaviour. Customers have come forward from the following stores with alleged stories on being scammed with similar deceptive practices: Vita Group Stores, Plenty Valley Westfield, Moonee Ponds, Albury, Fountain Gate Level 2.
Several licensees have reached out to me directly to object to the way I had initially painted all licensees with the same brush, and for that I am sorry. It does however highlight the damage that such unethical practices do to the Telstra Brand, which affects all licensees including those who run their business ethically.
Please feel free to leave your positive and negative experiences with Telstra ARO's below, whether you're a ex-employee, current employee (use a fake name and fake email), licensee or customer.